Popcorn is one of the quick and simple snacks that can cheer people up in a shot time. It's a favorite of ours especially when we go for movies, popcorn is necessary. Yes, you read that right, popcorn can be a delicious and nutritious snack.

It's easy to enter into the popcorn business, just need one popcorn vending machine and different flavors of corn. Rent a small place in the shopping mall, or in a food shop, in movie theater, and even in the amusement park. For the popcorn vending machine, we suggest Brand Hommy's model HM-PC-18. Selling price of the machine is US$1250/pc Ex-factory The machine can store 12kgs corns and 80pcs paper bag inside. The machine has heater inside that make corn to popcorn in less than 80 seconds.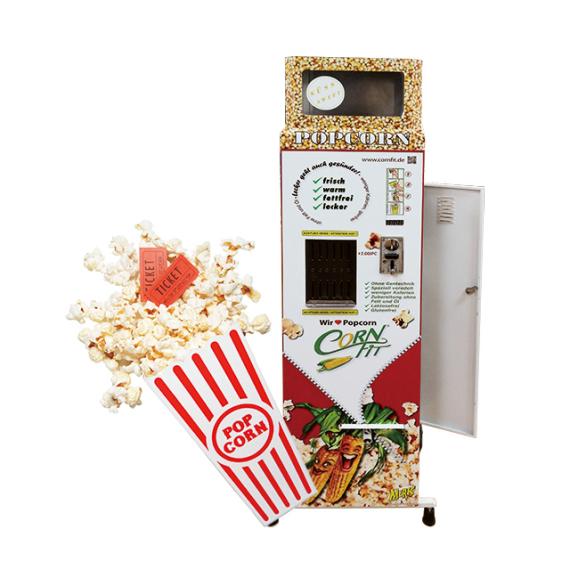 You may ask how much can you earn from the popcorn business in a day. Here is the benefit analysis. Considering each portion of popcorn needs 80 seconds to make,
the electricity cost about US$0.01,
cost of corn is about US$0.06,
paper cup cost US$0.0.07.
Selling price of each portion US$2 x 20 portion per hour, 8 hours per day,
$2 x 20 portion x 8 hour = $320 /day.
Less electricity cost $0.01 x 20 x 8 = $1.6,
Less paper cup cost $0.07 x 20 x 8=$11.2,
Less corn cost $0.06 x 20 x 8 x=$9.6,
Net income in a day will be $297.6.
You will be fast return from the investment in 7 months. Once invested, long term benefit.
macchina produzione pop corn
hommy popsicle machine
industrial popcorn machine automatic