Automatic pizza machine - Automatic pizza machine wholesale price, market quotation, manufacturer supply - HOMMY products
Views:79901 Author:apple Publish Time: 2021-06-11 Origin:hommy enterprise (xinhui) co. ltd
Hommy is using intelligence and technology to make it all accessible. What we are innovating is not only a kind of equipment and a kind of technology, but also a brand-new diet concept, a fast, delicious and healthy brand-new choice. A three minute, raw to familiar pizza maker has attracted the attention of industry and professional audiences.

The reason why it can attract attention is because of its unique cooking methods, advocating the concept of delicious, healthy, nutritious, quick and hygienic. Unlike traditional vending machines, this automatic pizza machine breaks the rules of the industry, adopts a more fresh and healthy on-site mode, and completely changes the existing fast food standards and concepts.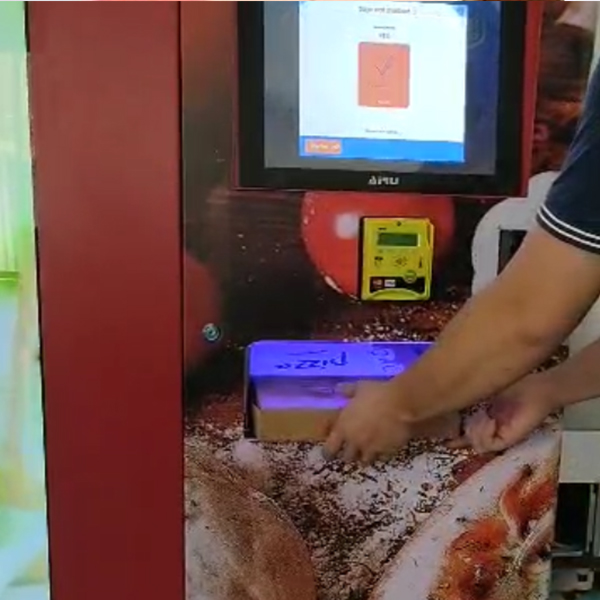 How about making a full-automatic pizza machine? From the perspective of the business, the biggest advantage of the automatic pizza machine is to save cost, small land area and save the rent of the site; It does not need to be on duty, saves labor cost, operates 24 hours, and can also obtain more passenger flow. The full-automatic pizza machine can accurately get customers, and it is a low-cost high-quality channel. With the popularization of mobile payment and the development of artificial intelligence, the system of automatic pizza machine is becoming more and more advanced, which can analyze the consumer behavior analysis and adjust the inventory and replenishment of goods in time.
HOMMY smart pizza machine is known as the full automatic intelligent pizza production line from order to pizza out of the oven only 3-5 minutes, far higher than the ordinary pizza shop.HOMMY is also a full-automatic pizza machine manufacturer, what needs you, comfy can also customized for the full-automatic pizza machine Oh! Welcome to call~
machine automatique de pizzas
Automatic pizza machine
machine automatique pizza